Get Unplugged: The Best Experience You'll Ever Have
February 11, 2019

I have a "Pink Shirt" Story…Do You Know Someone with a Story?
February 22, 2019
This Family Day on Monday, February 18, we challenge you to get unplugged by turning off all your devices.
Spending time with those you love is one of the best experiences you'll ever have and it doesn't have to be "boring."
Create your own memories by getting unplugged with your family and take our Unplugged Challenge on Facebook using the tag #WeeUnplugged2019.
Win an Unplugged Prize Pack!
On February 19, we'll be inviting you to share your experiences with us on Facebook to be entered to win this GREAT prize pack of goodies! 🙂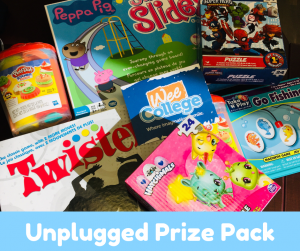 The goodies include:
Twister board game
Peppa Pig Slides board game
Two puzzles
Two Play-Doh kitchen kits
Portable and ADORABLE magnet fishing game
Time to get unplugged! How do you plan on spending Family Day?