Your Journey with Early Literacy Starts Here
"The first five years have so much to do with how the next 80 turn out" – Bill Gates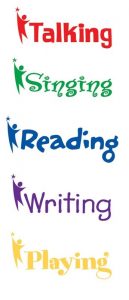 Promoting Early Literacy and Celebrating Family Literacy Day on Sunday January 27th, 2019
Wee College supports Early Learning. Engagement in literacy is within the walls of each Wee Campus. It starts with a child's Wonder; we believe 'why' is the most important question you will ever ask
When the question 'why' gets asked, we encounter a moment of emotional wonder and immediately our imaginations and curiosity kick into gear – we become engaged in finding answers.
As learners, we naturally ask questions, make observations, and get excited when we explore new pathways to deeper understanding. For example, a child's connection to their family, interest in stories, or curiosity towards a bird feasting at a feeder provide teachable moments that move learners from what they already know into an exploration of the unknown

The Wonder of Wee Literacy engagement (PLAY) lives and breathes through out our cleverly disguised classrooms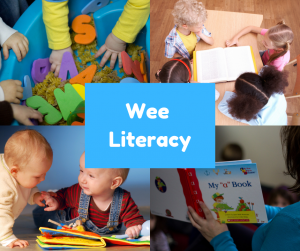 There are MANY initiatives, resources, and tips to help you continue to support a child's wonder through literacy engagements.  The links below will provide value, importance and useful practices and tips for you and your child.
Please click on a topic of interest:
P.S. – we asked you on Facebook what some of your favorite books for early literacy were (and we LOVE them).
Grab the list of great books for early literacy under our Parent Resources by clicking on the resource below.

What is Family Literacy Day?
Family Literacy Day is a national awareness initiative founded by ABC Life Literacy Canada, in 1999, created to raise awareness for the importance of reading and engaging in other literacy-related activities as a family.
Family literacy programs focus on parents as the means to improve the reading and writing skills of all family members. By reading to children and engaging in fun literacy activities, parents are actively keeping their own skills sharp while at the same time strengthening the relationship between the family to encourage life-long learning.
One Place to put on Your Must-Go List in Moncton
The Moncton Public Library is a great place to promote literacy.
It is:
Spacious
Bright
Comfortable
and offers a place to relax, learn, and explore with appropriate books, early literacy activities, music, and child-focused readings and play engagements.
Why You Should Promote Early Literacy
Don't Delay – Promote Today
The stats are alarming, cue the alarm bells.
"Over 30% of grade 3 students lack basic literacy skills" – Statistics Canada
WE can change this.
All the domains of a child's development — physical, social-emotional, cognitive, language and literacy— are interrelated and interdependent.
The more limited a child's experiences with language and literacy, the more likely he or she will have difficulty learning to read.
Let's promote richer engagements to change this.
How To Promote Literacy
While your child's first audible words (one of the best parenting moments ever, right?) only occur at around 12 months (Source), exposing your child to many different words from birth and beyond increases their vocabulary development.
When your child becomes a toddler and begins to learn more words and form sentences, AKA the 'Language Explosion,' taking turns to share experiences during conversations will help your child's continued development during school (Source).
With school-age kids, something a lot of us experience is picky…readers.
You may have heard something like, "reading is boring" or "I don't like to read." Help your child discover books that match their interests. Try finding a new favorite book by theme. Better yet? Skip right to these must-read books for kids age-by-age.
Supporting Early Literacy in Children
Respond to verbal and non-verbal cues. If your child points at something, start a conversation, extend. "Oh, do you like that small bird? What other animals can we find in the woods?"
Be patient with your child's learning
Model literacy: have a dedicated literacy space and read around your children
Ask questions often and engage your children with the world around them
Talk about what you and your child do throughout the day
Encourage these dramatic or pretend play ideas from Fun Littles for reading and writing, math, and concepts
Focus a conversation around feelings: help your kids recognize why they may feel a certain way
Set a media-free hour to spend time with your children playing, enjoying and being.(Source)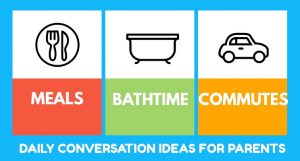 Every activity throughout your day can be an opportunity to talk with your kids and build on their developing language skills.
Meals
Talk about the feeling, color, shape, smell, and temperature of the food
Use pretend play for your child to act as a server or a grocery store owner
Ask about what your child would want to serve their friends, teachers, or at a birthday party
Keep a meal routine: plan and prepare meals with your children for around the same time each day and eat together
Talk about favorite foods, share something you're looking forward to, and how much you enjoy spending time with them
Look at recipes and pictures together: ask about what looks good or have your kids tell you what they would need to make it
Talk about different foods and look at nutrition labels together
Bath Time
Embrace curiosity: use cups, wash cloths, containers, empty bottles, and waterproof objects to explore different sounds and actions
Create a story by using simple objects and ask your child what happens next
For younger children, lightly tap and name body parts to help your children recall them
Play music in the background, sing along, and splash the water to the beats
Talk about hygiene and what bedtime story they'd like to read together after
Commutes
Give your kids a few minutes to relax and reflect on their day before rushing into conversation
Let them know how happy you are to see them and help them carry their belongings
Reference signs, nature, different buildings, and what's in them (e.g.: look at those large red trucks in the fire station! Firefighters use them to put out fires!)
Ask engaging questions like "what do you want to do first when we get home – have a snack or color?"
…but what are literacy milestones for children?
Glad you asked.
Promoting Early Literacy Milestones
0-12 Months
While your child won't have a strong vocabulary, they will be vocal with different sounds and expressions.
12-18 Months
You'll start to notice your child developing an interest in books. You'll also see them able to sit longer with a book and hold it – not eat it. Their little fingers will want to explore pictures and flip the pages.
18-24 Months
As your child begins to speak more often, they will start to fill in the blanks and recognize sentences and objects in books (Source)
0-12 Months
12-18 Months
18-24 Months
Use rhymes and songs with movement and touch

Get your child's attention by pointing to and naming objects

Use block books or bath books with big pictures and colors

Cuddle as you read together

Continue to use board books that have familiar objects pictured

Place books within your child's reach available for them.

Child interested in a book? Let them hold it as you read with them

Ask your child questions about the books you're reading

Playing 'I Spy' and 'Can You Find' helps your child understand and learn different words and objects (Source)

Developing language skills doesn't have to be through reading – active play is great too!

Look for books that use repetition to encourage learning long-term (Source)
(Source)
The New Reality: Impacts of Screen-Time on Early Literacy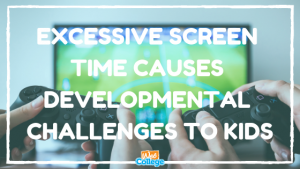 What's on your screen near your little ones?
We know children imitate behavior…and we don't need to tell you that there is questionable content on TV and online.
Here's the scoop:
Your child can imitate what they see on your screen between 6 and 14 months. Background or otherwise, excessive screen time can lead to language delays, affect cognitive development – especially memory,  and early reading and math skills in children (Source).
We don't want that.
You don't want that.
So how do you reduce screen-time to promote early literacy in kids?
Our biggest recommendation is to have a family media-free hour (daily) or media-free night (weekly) to encourage positive interactions as a family.
Family Book Club
Read a favorite board book and talk about your favorite pages, pictures, and characters. As they get older, you can choose a chapter book to talk about monthly!
Family Game Night
Try a new board game or card game every week. Turn one of our lovely snowstorms into a great candle-lit experience! Inspired to try a DIY approach? Make your own game of charades or building towers using things found around the house (Tupperware, anyone?)
Family Dinner
OK, quick warning: this starts out backwards, but hear us out.
Look online with your family to find a new recipe for everyone to try weekly or monthly. Try to find something that originates from a different country or uses new flavors. Your whole family can help prepare it. Your reward? Spending quality time with your kids learning about and enjoying something new.
List of Local Early Literacy Resources
Free language and speech programs for children from birth to pre-kindergarten in Moncton
Early Childhood Family Resource Center
Free fun and educational activities for parents and children ages 0-6 in Moncton
Learning Disabilities Association of New Brunswick
Full of resources on children with learning disabilities including readiness assessments, screening tools, creating a healthy learning environment for your kids, and great educational apps.
The Born to Read program offers a bag that includes a variety of children's books for newborns and their parents to cherish.
Tantramar Family Resource Center
Offers free literacy workshops and readings for families in Sackville.
A great resource in Downtown Moncton for books, puzzles, toys, tablet or computer use, and kids' programming such as toddler time, story time, coloring, developing communication skills, and more. Check it out often!
Links to Fun Engagements – Literacy is Hidden in Play
How do you and your children promote literacy?
Looking for a new book for your child's library? Remember to check out your list of Readers Choice Books for Early Literacy.