How to Prevent Cold and Flu Symptoms in Your Child
…and What to Do and Where to Go if Your Child is Sick
Heads up – it's winter.
Cue the cold temperatures, runny noses, and the middle of the cold and flu season as we all try to prevent cold and flu symptoms.
It can be hard to tell initially whether your child has a cold or the flu, as they are both viral infections and share similar symptoms (Source). While cold symptoms can usually be cared for at home, more severe flu symptoms may warrant a trip to the closest walk-in clinic, your family doctor, or emergency.
Want to know about a specific Cold and Flu Topic?
Easy! Click one of the topics below to start feeling better soon.
Let's tackle your child's cold and flu symptoms together.
The Warning Signs: What are Cold and Flu Symptoms in Kids?
| | |
| --- | --- |
| Cold | Flu |
| Sore throat, runny (or stuffy) nose, slight cough, sneezing, and fever | Sore throat, runny (or stuffy) nose, and complaints or visible signs of headaches, severe changes in appetite, nausea, diarrhea, and sudden, long-lasting fevers at around 38.5°C |
| Lasts 3-10 days | Lasts 7-14 days or longer |
| Complaints of being tired, but still involved in activities | Extreme tiredness; irritable; has a hard time moving |
| Starts overtime (Source) | Tends to start suddenly with chills and a high fever (Source) |
When Should I Take My Child to a Walk-In Clinic or Family Doctor – or Emergency?
Children under the age of two are more likely to get the cold virus and can experience symptoms such as coughs and runny noses often. Such symptoms can be cared for at home (Source).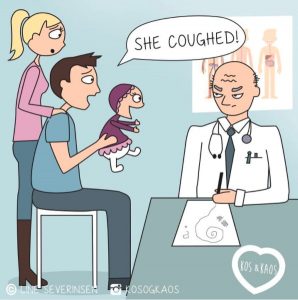 Comic by Line Severinsen – when not to visit your family doctor (used with permission)
Symptoms causing serious problems? That's when it's recommended for you to make an appointment and begin treatment(s) as soon as possible.
Use the following table for guidance on what cold and flu symptoms require a visit to the doctor or emergency (Source):
| | |
| --- | --- |
| Family Doctor / Walk-In Clinic | Hospital / Emergency Room |
| Temperature of 38.5°C | Fever and temperatures of 38.5°C persisting more than 3 -5 days or your child develops another fever after breaking |
| Your child has trouble breathing, eating, or is vomiting | Breathing is noticeably difficult for your child; child's lips are blue, and skin is pale or discolored |
| Your child consistently has low-energy | Your child has difficulty moving or waking up |
| Your child consumes few fluids; has difficulty urinating | Your child experiences dizziness, confusion, or seizures |
| Your child complains of ear pain or you notice visible ear damage (check for redness, fluid, or if they are regularly pulling at their ears) | Colored or bloody phlegm or saliva |
| Muscle aches | Chest Pain, complaints of a stiff neck |
| Your child coughs often and leads to choking or vomiting | Your child vomits more than twice during a 24-hour period and has diarrhea (Source) |
Always trust your instincts and seek help if you think something is seriously wrong – even if your child's symptoms don't match. Some prescribed medications, if needed, will only be effective if taken within 48 hours of the beginning of your child's flu (Source).
You can also dial 811 for Tele-Care – a free and confidential service for health advice.
When Do Cold and Flu Symptoms Start?
Cold and flu symptoms will typically start two to three days after your child comes into contact with either virus (Source) and they can remain contagious for at least a week (Source).
If your child has a fever or is experiencing more severe symptoms such as vomiting or the chills, keep them home until they regain their energy and their fever has been clear for at least 24 hours (Source).
How Do Colds and Flu Spread?
Both infections can be spread through anyone and anything three ways (Source):
Direct there's a high concentration of germs in your nose, mouth, and eyes – spread through touching or kissing
Indirect: if someone with either virus touches something else, those germs will stay on that surface for a few hours and there's a risk of them being transferred. Think lip balm, doorknobs, keyboards, phones, and toys
Air: droplets from sneezing or coughing can reach your child's face or hands, putting them at risk
How Do I Prevent My Child From Getting a Cold or Flu?
Both viruses are common and spread easily; however, there's many ways you and your child can protect yourself. Try the tips in our 'Cold and Flu Prevention' graphic.
While flu shots are voluntary, The Public Health Agency of Canada strongly recommends everyone six months and older to get a flu shot annually, as it's your best defense against the flu and rarely has side effects (Source). Still wondering if it's for your child? Visit Canada's Health Website.
How do I Care for My Child's Cold and Flu Symptoms?
Having a cold or flu can cause a lot of irritation and discomfort in children.
To help, consider these top five tips to help your child get over their cold and flu symptoms
Cold and Flu Friendly Nutrition
Your child's appetite will decrease when they're sick, but it's important to make sure they get the nutrition they need and ensure they're hydrated as both sweating and vomiting cause dehydration (Source). While your child is sick and as they begin to recover, focus on foods and drinks that are light, soothing, easy on the tummy, and easy to digest (Source).
Aim for 'alkaline' foods – those that are not acidic, or those that are only slightly acidic (Source). Some great, safe options are:
Fruits: blueberries, clementines, bananas, pears, and apples
Vegetables: potatoes, sweet potatoes, broccoli, cucumber
Nuts: almonds, cashews
Grains: corn, buckwheat, whole grain cereals and breads
Dairy: fresh whey and egg yolks
Drinks: water, herbal tea, whole milk
Avoid Reaching for Over-the-Counter Medication – unless Prescribed by Your Child's Doctor
If your child is under six, skip the over-the-counter medication for colds. Antibiotics such as decongestants and antihistamines don't improve cold symptoms and can cause negative side effects such as an increased heart rate and trouble sleeping (Source).
Create a Comfortable Space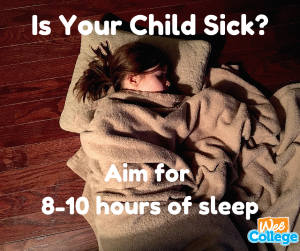 Rest is essential for your child to start feeling better. Try some of these suggestions to comfort your sick child:
Dress them in breathable clothing
Have a comfortable room temperature between 18 and 20°C for sleeping (Source)
Use a humidifier to ease the respiratory system (while making sure to clean it often to reduce the spread of bacteria)
Draw a warm bath to soothe your child if they're hot and irritable (Source). Noticing shivers? Take them out of the bath immediately
You're The Best Medicine
If you notice your child starts to develop cold and flu symptoms or their behavior changes drastically, plan on a work-from-home day if possible so you can be there to hold, cuddle, and laugh with them as they recover (Source)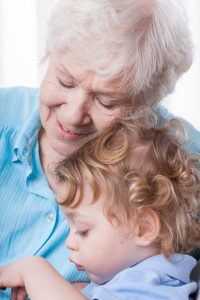 Recommended Medications and Remedies to Cure Fever, Aches, and Pains
If your child has a fever or complains of muscle pains or a headache, The Pediatric Society of Canada recommends trying medication with acetaminophen and ibuprofen – both found in Children's Tylenol and Advil.
If you're looking to use over-the-counter medication for coughs and colds for a child under six years of age, consult with your doctor first (Source).
If you have a baby and they are unable to eat because they have a stuffy nose, consider using a saline nose spray to clear up the area (Source).
Whenever using medication, read the labels and side effects of all products carefully.
Even if a product is labeled as 'All Natural' or 'Safe for Kids,' that doesn't mean it's automatically safe for your child.
List of Walk-In and After-Hours Clinics in Moncton To Go to if Your Child is Sick
"Only 43 percent of Canadians were able to secure same-day or next-day appointments with their primary physicians," reports The Canadian Institution for Health Information.
Walk-In clinics have variable weekday, weeknight, and weekend hours to accommodate you and your child's health care needs.
To help you find immediate care for your child, try one of these walk-in clinics in Moncton:
Moncton North After Hours Medical Clinic
Address: 1633 Mountain Road, Moncton, NB E1G 1A5 (right beside Shoppers Drug Mart)
Phone Number: (506) 854-2273
Schedule: accepts calls seven days a week from 9 a.m. to 9 p.m. (until 5 p.m. on Saturday and Sunday)
Clinique Providence – Lawtons Drugs
Address: 565 Elmwood Drive, suite 202, Moncton, NB E1A 2X4
Phone Number: (506) 383-4331
Schedule: accepts calls Monday to Friday starting at 5 p.m. and are open to patients at 6 p.m. On the weekend, they accept calls starting at 11 a.m. and are open to patients at 12 p.m.
Dr Louis Bourque Clinic – Jean Coutu
Address: 1116 Mountain Road, Moncton, NB E1C 2T3
Phone Number: (506) 855-1125
Schedule: Monday to Friday from 2 p.m. to 4:30 p.m. and from 6 p.m. to 8 p.m. On Saturday and Sunday, they are open at 12 p.m. to 4 p.m.
Main Street Family Medical Clinic – Atlantic Superstore
Address: 165 Main Street, Moncton, NB E1C 1B8
Phone Number: (506) 854-8805
Schedule: Monday to Friday from 8:45 a.m. – 8 p.m.; Saturday and Sunday: 10 a.m. – 3 p.m.
Mountain Road After Hours Clinic – Jean Coutu
Address: 1789 Mountain Road North, Moncton, NB E1G 1A5
Phone Number: (506) 388-9355
Schedule: accepts calls seven days a week from 1 p.m. to 4 p.m. and 6 p.m. to 9 p.m.
Trinity Medical Clinic – Atlantic Superstore
Address: 89 Trinity Drive, Moncton, NB E1G 2J7
Phone Number: (506) 854-0133
Schedule: Monday: 1 p.m. – 9 p.m.; Tuesday: 9 a.m. – 9 p.m.; Wednesday and Thursday: 1 p.m. – 9 p.m.; Friday: 9 a.m. – 5 p.m.; Saturday and Sunday: 1 p.m. – 4 p.m.
We know having sick kids is hard. Seeing them uncomfortable is heart wrenching. We hope your kids get better soon!
Let us know what works for you and your kids. What helps you may help someone else too.
Please note that this blog post is for general information only. The content above should not be used as a substitute to information obtained from a licensed physician.