Family Thanksgiving Activities
Time to Read: 2-3 min
October 8, 2018 is a day of gratitude and family fun. It's a time full of fall colors, the warm scent of apple cider, a dash of pumpkin spice in your latte, and the laughter of family and friends. Take a moment to sit with your loved ones and enjoy a beautiful Thanksgiving weekend together. Call grandma and grandpa or auntie and uncle to bring light to your family's traditions or search together with your little ones to find new traditions for Thanksgiving 2018.
Regardless of how you celebrate the scent of pumpkin spice in the air, Thanksgiving is a time for thanks and togetherness. Here are five family thanksgiving activities for your family to do together.
1.Walking Trails & Parks in Moncton
You don't have to go far to work off the traditional turkey dinner and think about how you managed to eat that second piece of pumpkin pie – or three – no judgement. Enjoy the beautiful fall colors in Moncton by stopping by Mapleton Park, Irishtown Park, Centennial Park, or one of the many neighborhood parks. You can view all park maps on Moncton's website. The trees are just starting to turn colors now, so this weekend is the perfect time to go out and take fall family photos before they're gone and before the 'I live in my bed now' weather hits.
2. Family Activities Around Moncton
It wouldn't be Thanksgiving weekend without hay rides, pumpkins, corn mazes, and apples. Lots of apples. Les Petits Fruits in Memramcook invites you and your family on a hay ride to go and pick out your pumpkin. Call 506-758-0987 or check Les Petits Fruits on Facebook to find out if they're open before you go.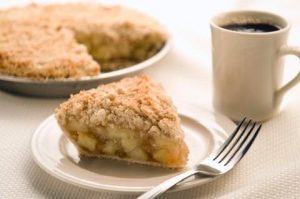 Let's be EXTRA real for a second: one hay ride isn't enough, so make your way to Verger Belliveau Orchard (also in Memramcook) if you have time! You can enjoy an apple picking adventure before settling down in their lovely little café to enjoy a few fresh pastries such as this mouth-watering apple pie to fuel yourself for the drive home. We also recommend gas for your car.
Still thirsty for more adventure?  The Green Pig Market has a GIANT corn maze to go through – and get lost in ($10 for adults; $8 for kids 13 and under). For older kids (8+) that need something more action-packed, they offer Zombie Wars ($14.99). You and 20 others will have ten minutes to conquer a zombie invasion with paintballs and save the world! The City of Moncton needs you.
3. Night In
Chilly evenings call for blankets, snacks, and a good fall or Halloween family movie…or nine. We've created a collage of movies that we definitely won't be marathoning in one night. We definitely didn't do that already either. Add them to your family's 'Plan to Watch' list and share your favorite flicks with us on Facebook. We'd love to share your excitement for fall and chat about them!
4. Give Back to Your Community
It's a great time to teach your little ones about giving. To help, consider starting a 'Giving Jar' so that your kids can set aside some money from their allowance or birthday to go towards giving back to a cause of their choice. There are many non-profit organizations that help fight homelessness and hunger in Moncton. Harvest House Atlantic, Ray of Hope Soup Kitchen, and The Humanity Project to name a few
5. Thanksgiving Crafts for Kids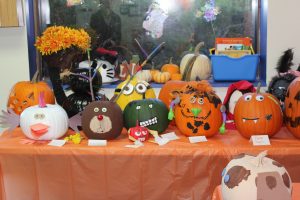 Invite your child to learn with our Pinterest board full of fall-inspired Invitations for Learning. One of our fall favorites is to set the stage for creativity by laying out a garbage bag or some old newspaper and placing a pumpkin on top. Have a variety of leaves, glue, paint, googly eyes, and other fall craft accessories set aside so that your child can make their own pumpkin personality like our Trites road campus.
We hope you have a wonderful Thanksgiving weekend full of laughter, warmth, and good food. Happy Thanksgiving everyone!
QOTB (Question of the Blog): What are your family's traditions?
Photo Credit (in order of appearance): Wee College, Wee College, Verger Belliveau Orchard, IMDB, Wee College